Thank you for joining us for Renegade Virtual Run and for choosing the "Hometown Experience!"
While it is unfortunate that we cannot be with you on the course this time, we are delighted to have you run in the local parks, just like any other year! Whether you choose Bare Cove Park or Wompatuck State Park, our course promises to be challenging, beautiful and exciting and has a great mix of both paved trails and technical wooded terrain.
As you know from past experience at our events, our course is very clearly marked out with caution tape, arrows, obstacles and hundreds of volunteers pointing you in the right direction. This year however, you won't have all that guidance, but we have provided you with an interactive map that uses your GPS tracker and allows you to follow the route we chose! While there is no guarantee you won't get lost, we'll say if you do – well, that will just add to the challenge!
We have provided pdf files of both courses if by chance you want to go old school and take the risk on finding your own way. To assist you, we have marked the courses with arrows (sample below), but please be advised that there is no guarantee these will remain up for the longevity of the event.
How To Use The Interactive Map On The AllTrails App
1.  Download the AllTrails app (see app logo below)
2.  Click on the link below and the course map for that park will open in the app. This is a free app and you do not need to upgrade to the pro account to use it.
Bare Cove Park
https://www.alltrails.com/explore/map/map-c8c41c4–35?u=i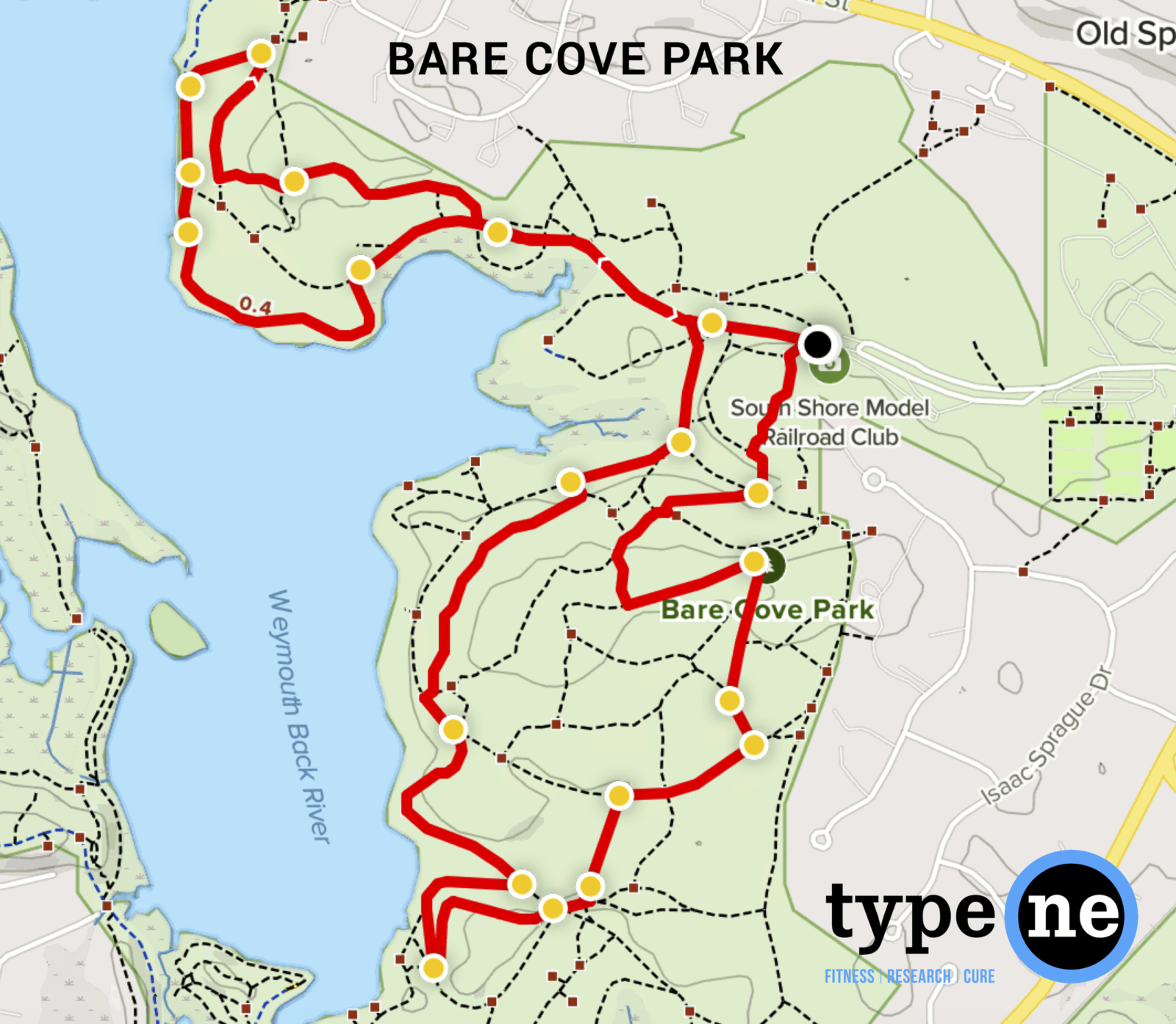 Wompatuck State Park
https://www.alltrails.com/explore/map/map-82e6f7a–45?u=i

3.  In the top right corner, click on the 3 dots and "save map."
4.  When you are ready to do the run : go into your AllTrails app and if you have saved your map you will find it under "plan" on the bottom left of your screen. Click on the map and then tap on the 3 dots in the top right corner. Choose "load into recorder." The blue dot represents your GPS location. Press the red record button and have fun!
If you choose to do the exercises on the course, you will see the orange dots on the map. When you arrive at them, click on the dot and the exercise is there for you!
Note : This is an interactive map but you will not receive notification when you're at a position to do the exercise. You will also not receive notification of being off the marked trail unless you have a pro account. Most of the exercises are at an intersection as an attempt to get you to look at the map for both the exercise and direction.